Welcome to The Official Website of Sun Hawk(Henan) Aviation Industry Co.,Ltd !
SunHawk Aviation S100 "Small Whirlwind" stuns at the Zhuhai Airshow
---
At 11 o'clock on November 6, 2018,SunHawk Aviation(Henan) industry co., ltd. held the world premiere ceremony of the unmanned helicopter S100 "Small Whirlwind" at booth H6B4 in Hall 6 of Zhuhai Airshow. As the first company to release new products at this year's air show, the s100 broke the design concept of conventional drones with a longitudinal arrangement twin-rotor helicopter structure, which has been highly recognized and praised by the industry insider.Zhengfeng Wan, the Vice Mayor of Zhengzhou Municipal People's Government, member of the party group, director of the Zhengzhou District Administrative Committee of the China (Henan) Free Trade Zone, and Yongjun Geng, he head of the Shangjie District of Zhengzhou City, attended the opening ceremony of the S100 "Small Whirlwind".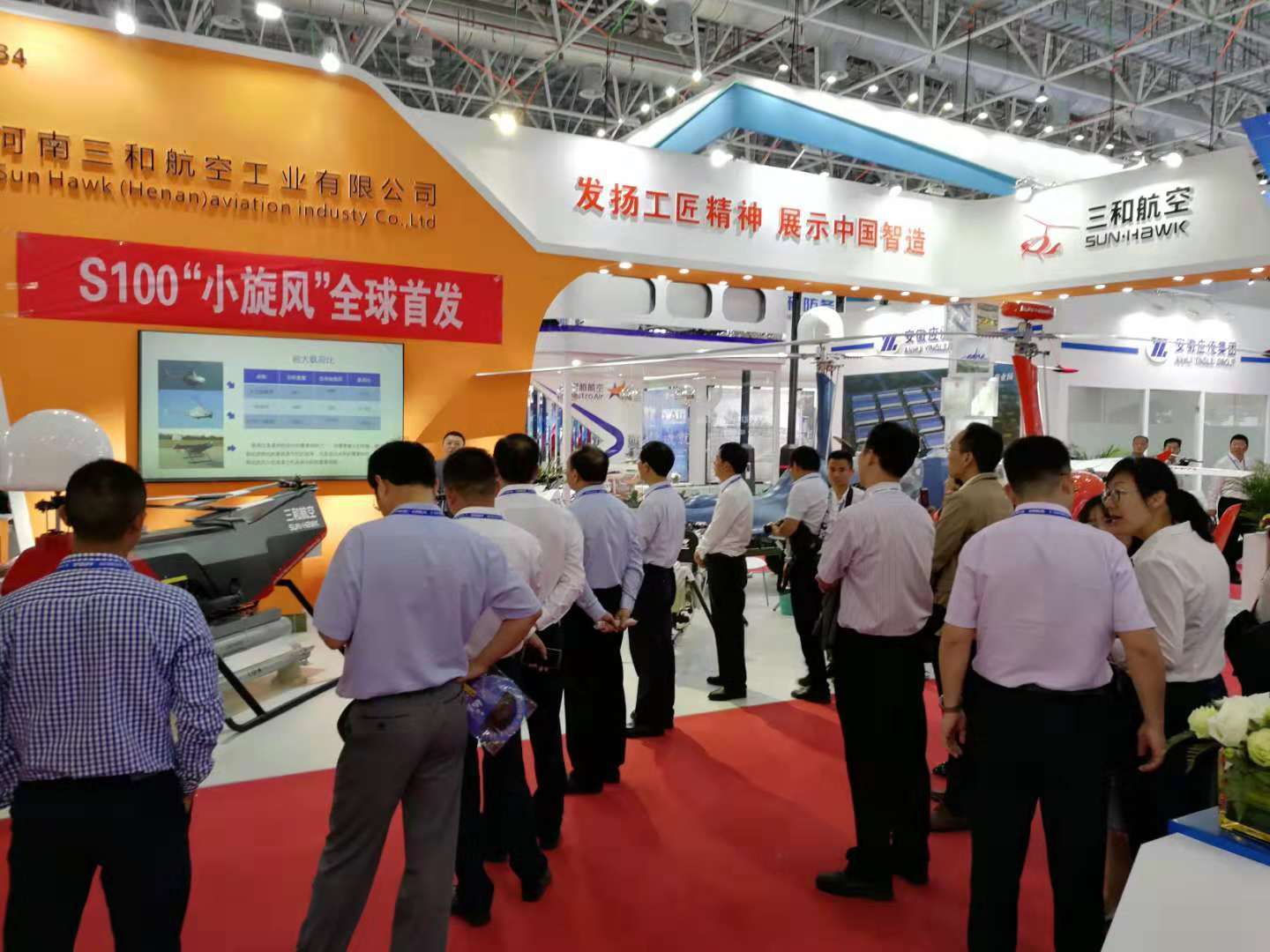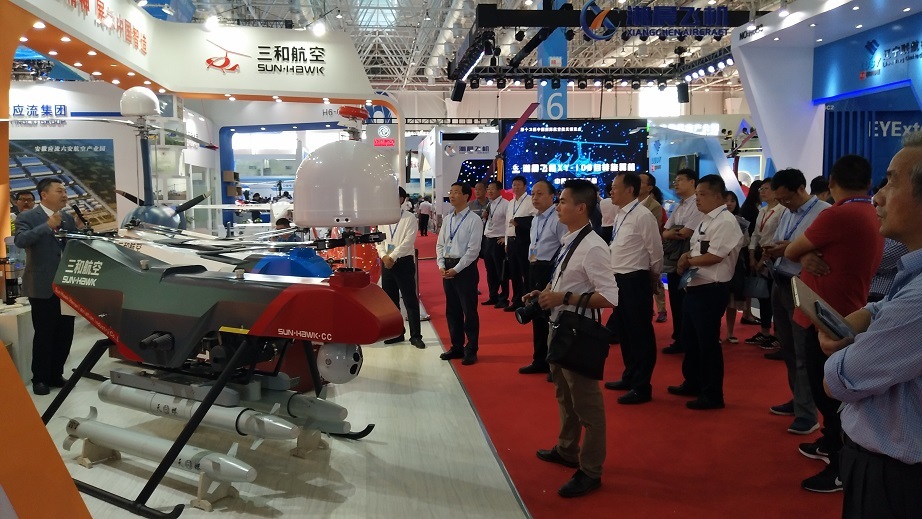 Liang Tao, CEO of our company, was interviewed by CCTV.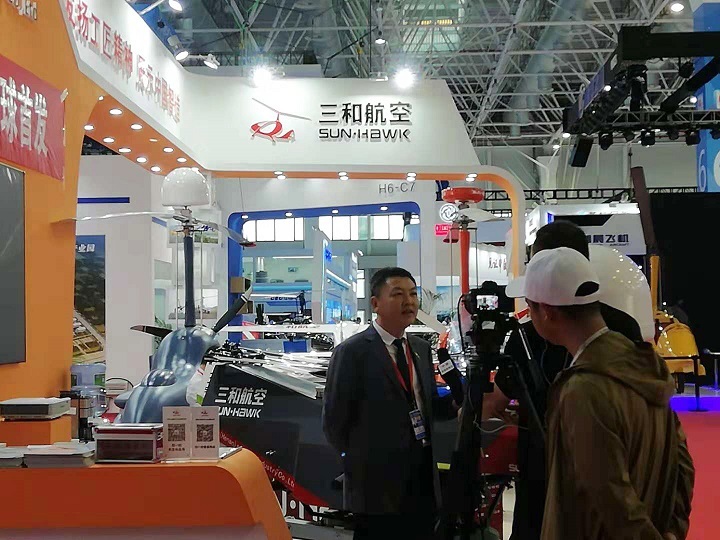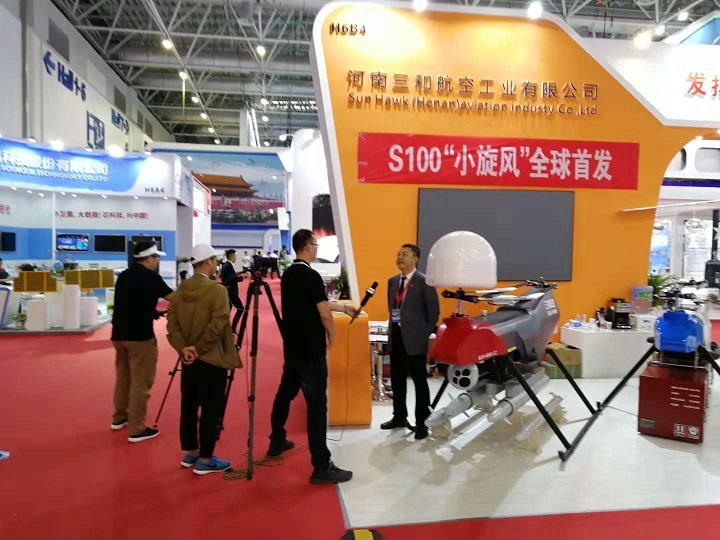 The main advantage of longitudinal arrangement twin-rotor helicopter is that its rotor is arranged in longitudinal, the space occupied by the folded rotor is small and very convenient, and the mission load is not disturbed by landing gear. The direct advantage of longitudinal arrangement twin-rotor helicopter is that its loading capacity is obviously improved compared with the traditional single-rotor helicopter. Because there is no tail rotor power consumption as a single rotor helicopter usually does, so that the load capacity is also greater. And at a lower paddle, the load can get the best performance, bigger range in longitudinal center gravity, and the hovering efficiency is higher. The longitudinal twin-rotor helicopter has the congenital advantage of smaller diameter of the paddle disc under the same load. It has the strong anti-crosswind ability and it also has a large control margin in strong wind environment.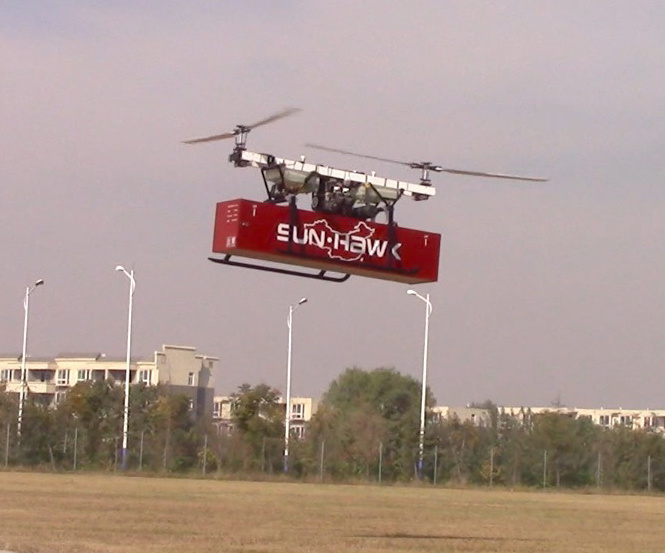 The longitudinal arrangement twin-rotor unmanned helicopter is composed of engine, transmission system, frame, two reduction gearboxes, two sets of hubs, two sets of rotor, two sets of tilting discs, control steering gear, flight control unit, communication link, ground radio, ground workstation and so on.Mainly it can be used in agriculture and forestry plant protection, forest fire prevention, police patrols, counter-terrorism, reconnaissance,field search and rescue, power line inspection, petroleum pipeline patrol and disaster investigation etc.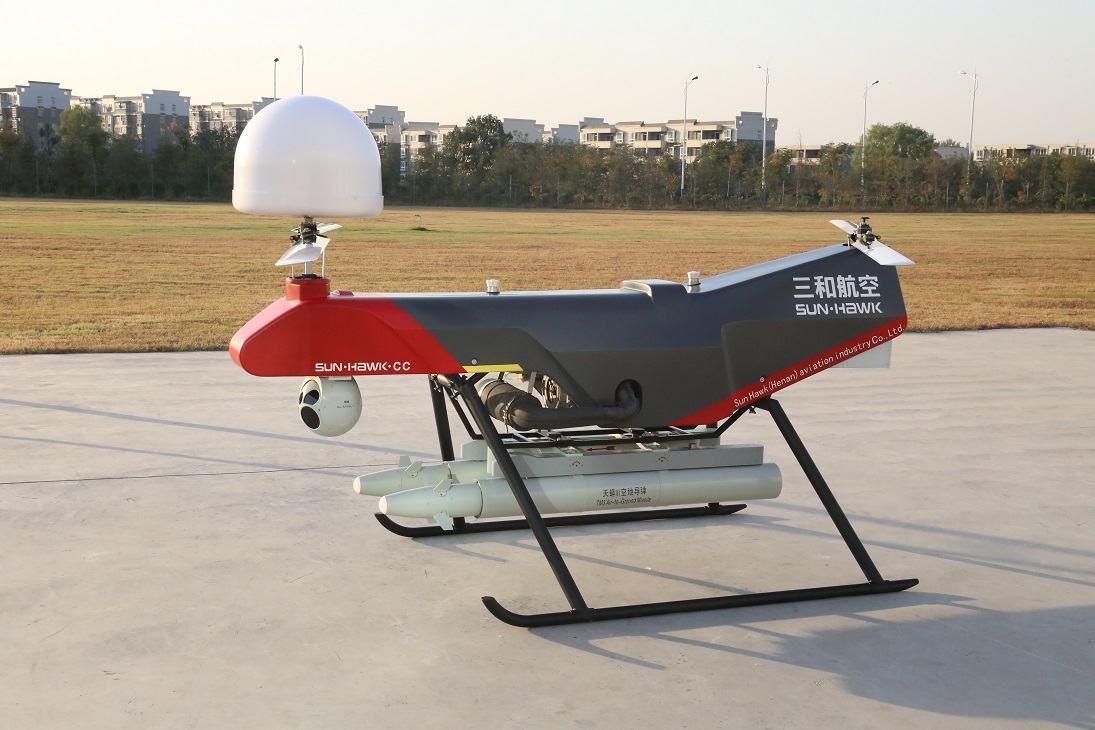 Design parameters
Total take-off weight: 255kg
Total useful payload: 130kg
Empty aircraft weight: 125kg
Cruising speed: 80km/h
Rotor diameter: 3200mm
Wheelbase: 2300mm
Package size: 2660X500X800mm (long X width X high)
Folding transportation size: 2600X1200X1100mm (long X width X high) Power: ROTAX 65HP gasoline engine
Fuel consumption: 16 liters / hour
Duration: 2.5 hours (It can be increased to 6 hours by load reduced).
Up and down rate: 4m/s
Operating environment
Use for day and night
Temperature: -25 C ~+45 C
Humidity: 15%-95%
Practical ceiling: 2500m
Wind resistant grade: 12m/s (7 stage wind)
The S50 "Small Whirlwind" flight control system is a redundancy, high integration, high reliability and cloud management function flight control system. Each of our flight controllers has passed stringent environmental adaptation tests and screening tests. The flight control system has three redundant attitude fusion sensor unit, double redundant flight control and planning unit, data recording unit, whole aircraft condition monitoring and fault identification unit, dual redundant airborne bus, mission management unit, 900M/3G composite data link and cloud management platform.
---
"Love with sky, dream with flying" - Rotorcrafts Flight License Training started!
On March 1, 2019, Henan Sun Hawk Aviation Industry co. LTD., officially started the first autogyro license training ,provides a professional autogyro flight training for enthusiasts, the training flight model- Sun•Hawk autogyro is independently researched and developed by our company, and has obtained the first domestic autogyro type certificate (TC0028A-ZN) and production license (PC0038A-ZN) issued by the Civil Aviation Administration of China.
Russian company "Tupolev" visited SunHawk Aviation
On March 20, 2019, SunH awk Aviation(Henan) Industry Co., Ltd. received a visit from Tupolev Valerii and Alkhipov Aleksei, presidents of Russian "Tupolev" Technology y R&D Center Co., Ltd.,to deeply investigate the design level and manufacturing capabilities of our company, and finally reached and signed a strategic cooperation agreement and a product agency agreement.